Not long ago, kids might have cringed at the very thought of wearing eyeglasses. Goggles weren't cool or stylish. In fact, kids preferred blurry vision over the thought of wearing a pair. Luckily, things are different now! Quality sports eyeglasses tell everyone you're a committed player, whether you're a real pro or play in Little League. In addition, they offer a comprehensive list of features and many benefits. With all of the advancements made in sports eyewear, they're now considered not only useful but cool!
Do You Need Sports Glasses?
Anyone can benefit from wearing specific sport eyeglass frames with lens technology protecting your eyes from various outdoor elements. However, it's important to note that not every sport requires particular safety glasses. Regular glasses with impact-resistant and anti-glare lenses are often enough for activities such as light hiking or cycling.
That said, there certainly are sports that require safety sport glasses frames and all the benefits that come with specialized lenses. You should consider getting glasses for sports if you enjoy any of the following activities:
Hunting or shooting
Soccer
Tactical and military activities
Lacrosse
However, many sports activities don't necessarily require wearing specialized protective glasses. Still, wearing them is a good idea. They include:
Baseball
Basketball
Football
Archery
Tennis
Motorcycling
Some of the highest quality prescription sport glasses are designed specifically for children. As a result, if your kids love to play ball, safety glasses are a wise investment.
What Type of Sports Glasses are Available?
Sports goggles come in many shapes and sizes. In fact, some sports glasses are designed with a specific sport in mind. For example, there are sports goggles specifically created to fit hockey, baseball, and football helmets. Quality sports glasses should be adaptable and allow for the use of a helmet should the sport require it.
Some of the most popular types of sports eyewear include:
Cycling Glasses
A quality pair of cycling glasses offer perfect aerodynamics, appropriate lenses, and comfortable ventilation. For these goggles, a perfect fit is crucial.
Hiking Glasses
Glasses for hikers offer extreme comfort and stability. The focus is on the design rather than the lenses. This ensures the goggles can handle the rough treatment that comes with exploring the great outdoors.
Running Glasses
Runners know how uncomfortable it is to wear regular glasses during a workout. Pushing your glasses up your nose as they slip with every step can be annoying too. Avoid this by purchasing running glasses that offer high stability and stay right where they should no matter how fast you run.
Glacier Glasses
High altitudes require a pair of quality glacier goggles. They offer high UV protection and reliable stability compared to regular sunglasses. Glacier glasses were designed specifically to protect mountain climbers from ultraviolet rays, the heavy glare they experience, and prominent snow reflection.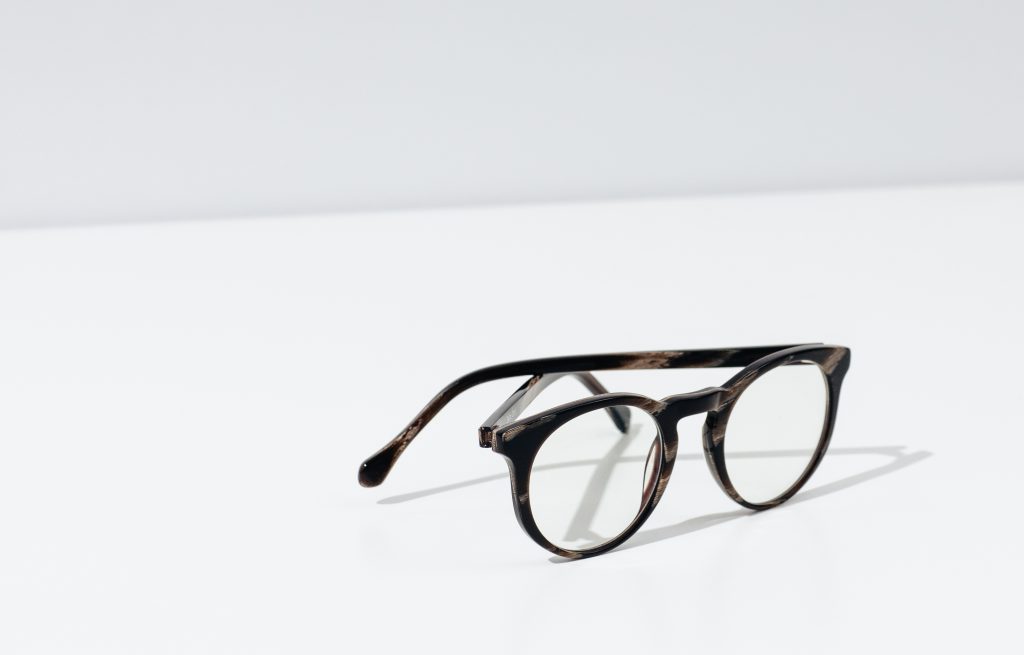 How To Choose The Best Sports Glasses
The most important thing to consider when choosing sports glasses is the level of UV protection the lens has. There are five different levels of translucency, ranging from clear to very dark lenses.
Lens color is another important feature to think about, as each color offers unique benefits. A wide variety of tinted lenses are available, and before making your choice, you should know which color does what.
Blue lenses can offer high contrast and cool vision.
Yellow lenses can help enhance your vision in poor lighting, which makes them perfect for foggy and cloudy days.
Orange lenses are ideal for golfers as they can enhance contrast for green tones.
Grey and colorless lenses provide minimal contrast enhancements, so they are good for everyday use.
Non-Prescription Vs. Prescription Sports Glasses
Sports glasses are useful for a variety of reasons. As such, many professionals, as well as amateurs, use prescription glasses for sports to improve vision and get full protection at the same time.
However, not every pair of sports goggles comes with a prescription, and not every frame supports subscription lenses. Depending on the frame shape, size, and lens features, some manufacturers allow including prescriptions in their sports goggles. If you need to improve your vision while staying protected, it's best to buy sports prescription glasses.
How To Keep Your Sports Glasses Secure
Whether you decide to buy a pair of high-end goggles or opt for something less expensive, choosing a pair that suits your needs is critical. It's also important to factor in comfort and security as both are necessary for enjoying sports. With that in mind, here are some tips for making sure your sports goggles are always in place:
The fit has to be perfect
Choose light eyewear rather than heavy goggles
Use elastic silicone sports glasses straps if necessary

Keep Your Eyes Safe at All Times
Specialized protective glasses are crucial if you want to enjoy any activity fully. Whether you need something to keep the bugs out of your eyes, or a pair of glare reducing glasses to minimize snow reflections, sports glasses are a good choice.
At Felix Gray, we feature Blue Light glasses with lenses that filter Blue Light and block 100% of UVA/UVB rays. They also include backside anti-reflective coating that helps reduce indirect glare. Browse through our selection of specialized sunglasses or contact us to learn more.