Devoted to clean and ethical living, Terumi likes to spend her time in nature when she's not working as a sustainable wardrobe stylist and model.
Q: Describe yourself in 5 words.
A: Eclectic, speedy, resourceful, dynamic, adventurous.
Q: How do you start your day?
A: Every morning I make myself a matcha latté with homemade almond milk and a sprinkle of cinnamon while listening to the news. For me, this ritual calms my mind and reminds me that I'm a small part of a much larger world — this gives me the drive I need to take on my day. If there are good waves, I hop in the ocean (which is down the street from my apartment) and surf before going to set.
Q: What's your relationship with technology like?
A: I'm typically an early adopter, which isn't surprising because I grew up in Silicon Valley. My favorite podcast is Pivot (with Kara Swisher the most powerful tech journalist and my hero!), which covers big tech and business stories. To ground my busy, tech-filled life, I try to spend lots of time completely unplugged and out of service in the mountains and ocean. That balance is critical to maintaining my loving relationship with technology.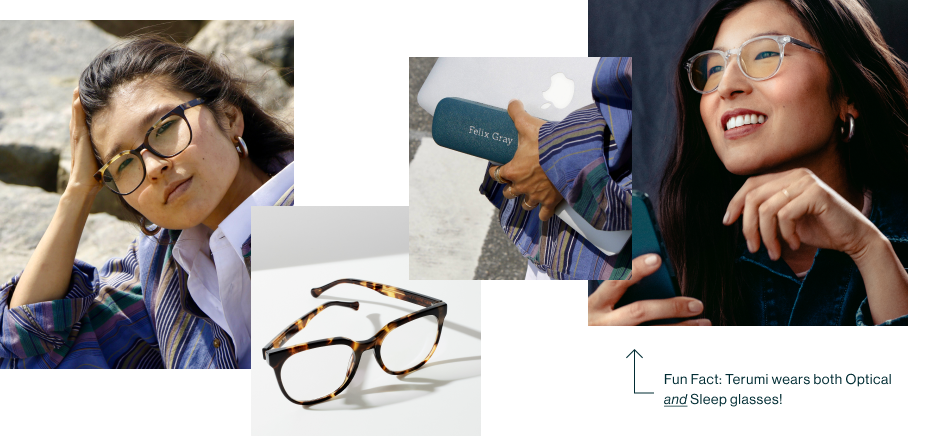 Q: It's focus time: what's your secret sauce?
Three things:
AirPods, for music and to signal to others that I'm busy.
A good outfit, because I cannot focus if I'm dressed sloppily.
Short but regular breaks every hour and a half, to move my body or grab a snack.
Q: What's your favorite Felix Gray style and when do you wear them?
A: I wear my Kelvins if I'm doing computer work for an extended period of time — they are part of my "focus mode outfit" and help me look and feel the part! More recently, I've been wearing them outside because they also have UV protection but, truthfully, mostly for steeze reasons!
Q: Other than our eyewear, what invention could you not live without?
A: My watch. I am obsessive about time–punctuality, efficiency, quality time. I wear a beautiful rose gold analog wristwatch every single day. It's always set 3 minutes early, and it helps me plan and keep pace with my day. Much like jewelry, my watch and glasses are part of my identity. I don't leave the house without them!
Terumi's Picks