Our longtime friend (and sometimes model!) makes creative technology his full-time job.
Q: Describe yourself in 5 words.
A: If I could only describe myself in 5 words, I'd use impulsive, creative, tinkerer, curious and adaptive!
Q: How do you start your day?
A: I wake up (to my phone's alarm), and stare at the screen. Once I'm out of bed, I get a workout in. With physical activity out of the way, I go straight into computer mode.
Q: What comes next?
A: I may jump on my desktop and start up 3D renders, motion graphics, or I'm on my PlayStation programming my latest video game. I've been working on balancing game design with freelance work so with the varying workload, becoming my own expert project manager has been my goal.
Q. How would you describe your relationship to technology?
A: I'm married to technology. We might not always get along but we were made for each other. Technology is at the root of everything I love that isn't maybe, sports? Ever since I was little I've been tech-savvy. Blame it on my Dad bringing home video games for himself when I was younger and letting me absorb all of that information. Once I got my own devices it was a wrap.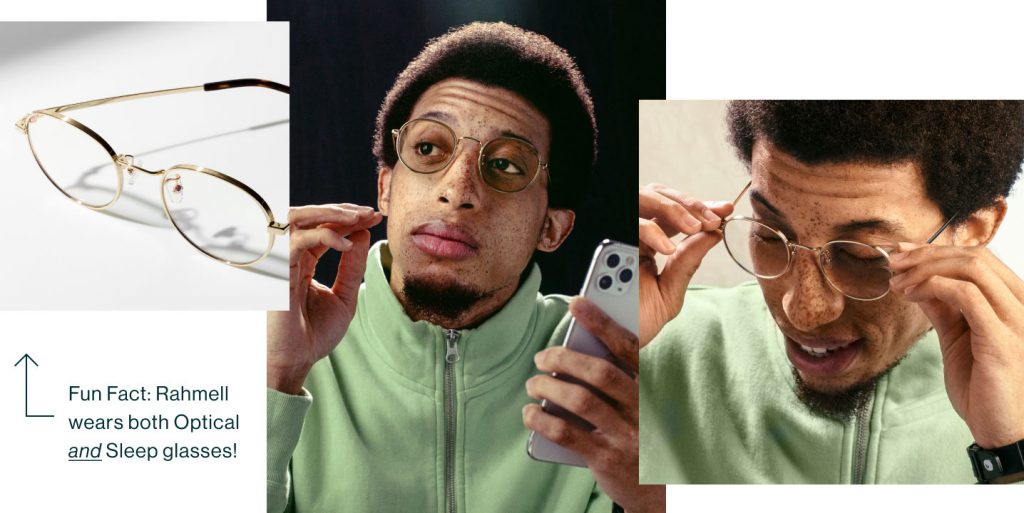 Q: It's focus time: what's your secret sauce?
A: A cup of yerba tea, and a dash of drum & bass!
Q: When do you wear Felix Gray glasses?
A: When I wear my Felix Gray's, it's when I'm tapped in. When I know I'm gonna be staring at these backlit screens for multiple hours, they are my workwear goggles! I'd have to say that the Hamilton's are my favorites! Can't beat that shape when they compliment my face so well!
Q: Other than our eyewear, what invention could you not live without?
A: I couldn't live without video games. And whatever tech is required to make french toast! There's just so much we can learn and teach through video games. And what is life without french toast?