So, you're starting to notice some blurriness and it's time for glasses. Rejoice — you've got a new accessory to add to your closet. Today, there are lots of trendy options for stylish reader glasses. Women of fashion know that a chic pair (or two) can be a vital part of your wardrobe. With plenty of options to choose from, you can always find a pair of women's reading glasses to suit your taste and unique personality.
Do You Need Women's Reading Glasses?
Readers for women are worn to compensate for a condition known as presbyopia. This is a vision problem where objects close to the viewer (approximately an arm's length) appear blurry. It makes reading a book or screen difficult or near impossible. Ladies' reading glasses work by magnifying nearby objects, correcting the blurred focus of presbyopia.
Signs of presbyopia often appear in women 40 years of age and above, but can happen even earlier. A classic symptom is the inability to read small text or the need to hold a book or screen closer to the face in order to read. Other warning signs include headaches or strained eyes after reading.
If you're experiencing even the slightest of these symptoms, it's a good idea to consider a pair of ladies' readers. Start by taking a reading glasses strength test to determine the severity of your vision problem and what lens strength you need.
You don't need to suffer from presbyopia to get reading glasses. Glasses can benefit even young women with healthy eyes and no vision problems. Felix Gray, for example, offers Blue Light blocking glasses to help prevent eye strain from electronic devices or computer screens.
How to Choose Reading Glasses for Women
The perfect pair of glasses can be a vital part of women's fashion. Reading glasses feature different shapes and colors to choose from, so you can always find a pair of women's readers that reflects your sense of style. Here are a few things to consider when picking out your next pair:
1. Fit
Even a pair of cool women's reading glasses won't look as good if it's not a snug fit with your face. That is why choosing the correct size is essential. The most critical measurement in women's reading glasses is the frame width or the width from one front edge of the glasses to the other. If the width is too large, the glasses won't align properly with your nose and ears, leading to a loose fit.
Frame widths vary from Narrow (124 – 129 mm) to Wide (137 – 140 mm). You can measure your face from one temple to another to get a feel for a suitable frame width. Aside from the frame width, you should also check the bridge width, the length between the two lenses. This determines how snugly the bridge fits over your nose.
Lastly, consider the temple arm length, which measures how long the "arms" of the glasses are. It should roughly match the length of your temple to your ear. You'll find these measurements indicated in the temple arm of most reading glasses. In the case of Felix Gray eyewear, it lists the lens width, bridge width, and temple arm length (in that order).
2. Quality
The overall quality and durability of reading glasses depend on the manufacturer and materials used. They come in two material types: metal and acetate. Metal frames are durable, able to withstand impacts and daily wear and tear. Some metals, like titanium, are hypoallergenic, making them ideal for women with sensitive skin.
The drawback with metal frames is that they can be heavy, creating added pressure on the nose bridge. Metal frames may not be as comfortable for prolonged wear, but it varies person by person. Acetate frames are lightweight and durable. They don't put as much pressure on the nose bridge, making acetate pairs sometimes more comfortable for extended use. The material also comes in a myriad of styles and colors, making it a popular material for stylish eyewear.
Some reading glasses combine both acetate and metal (like in the Kepler frame) to reap the benefits of both materials. In the end, both are viable materials for reading glasses. Which one you choose will ultimately be a personal preference.
3. Style
Once you've figured out the right fit and material for the reading glasses, it's time to focus on the style. One crucial factor is the color of the frame. Felix Gray eyewear, for instance, is available in a wide range of hues, from solid to mixed colors.
The shape of the lens also plays a significant role. As a general rule of thumb, square lenses work best with round faces and vice versa. Oval faces are the most flexible and can work with virtually any frame shape. Here's a general guideline of which frame to go for, depending on your face shape:
Square faces work best with rounded styles
Round faces work well with rectangular or square frames
Oval faces are the most flexible and can work with any frame shape
Heart-shaped faces look great with rectangular or cat-eye frames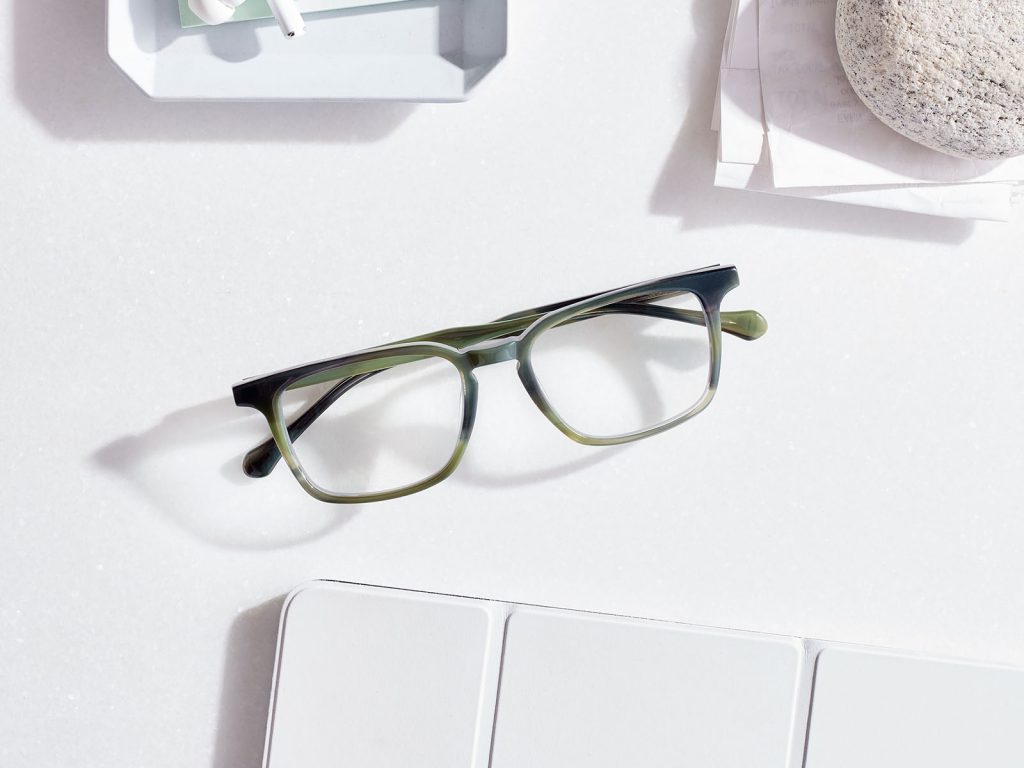 The Felix Gray Collection: Stylish Reading Glasses for Women
The Felix Gray collection has a range of women's glasses to suit any taste and style. Here are some of our favorites:
The Lovelace — with its delightfully baby pink frame, round lens, and slightly angular frame — creates a chic and sophisticated look that goes well with casual outfits and eveningwear.
The Carver offers a classic reader style. You can choose a classic Black or Mahogany or opt for a slightly bolder Midnight Surf.
Make a statement with Alexander — our newest and boldest round frame — available in Havana Tortoise, Ivory Tortoise, and Palomino.
Ready to find a stylish pair today? Browse the Felix Gray collection of reading glasses for women with Blue Light filtering today.