What are the parts of glasses called?
Eyeglasses may seem like a simple accessory, but they're actually much more complex than most people think. Many people need them to improve their vision and make everyday tasks (like reading or watching television) easier. Even if you have 20/20 vision, chances are you can still benefit from non-prescription Blue Light blocking glasses. These specs help prevent Digital Eye Strain (also known as Computer Vision Syndrome), which can cause tired eyes, blurry vision, and even headaches. Whether you wear prescription glasses or non-prescription Blue Light filtering glasses, you'll want to understand the parts of eyeglasses so you know how to fix your glasses if anything ever happens to them.
Since glasses can easily be sat on or stepped on through normal wear and tear, it's important to understand all of the various parts of glasses. Oftentimes all the eyeglasses parts can look the same, and putting them back together might seem impossible. That's why it's important to know the parts of a glasses frame so either you or someone else can repair them with ease. Everything is much easier when you are informed, right? That's why we are going to break down the parts of glasses so you can stop asking, "what are the parts of eyeglasses called?"
Here are the top 10 eyeglasses parts that you should know:
Lenses: The most obvious part of a pair of glasses is probably the lens. It's the clear panel in the front of the glasses that you look through. Lenses can be manufactured to fit your prescription needs, and they can come in many varieties such as single-vision, progressive, bifocal, and even different colors and tints. It's important to keep your lenses clean, so you can see everything clearly! We recommend using a microfiber cleaning cloth to get rid of any smudges on your lenses.


Temples: These are the part of the glasses frame that keep your glasses on your face securely. The temples (sometimes referred to as the arms) hook behind your ears and hold the glasses in place.


Temple tips: Along with the temples, there are temple tips placed on the edge of the temples. These parts of an eyeglass act as a guard against the skin because they help to prevent irritation from the metal.


Hinges: Hinges, just like those on a door, are the part of glasses frame that allow the glasses to fold inwards. They connect the temples of the glasses to the front, and help the glasses make for easy storage.


Rims: These are also often referred to as eye wires. Either your optometrist or eyewear provider will fit your lenses inside the rims after they're made. They are the parts to glasses that become the most recognizable part of spectacles because of their color and design.


Bridge: The bridge is the little part in the middle of the two lenses that connects them. It holds 90% of your glasses' weight and ultimately determines the fit of your pair. It can be customized according to the glasses shape or your face shape by being made shorter or longer (to accommodate high nose bridges or low nose bridges).


Nose pads: These parts of a glasses frame are the two little pieces on the inside of your glasses that sit on either side of your nose. Their purpose is to keep the glasses sitting nicely on the face and to avoid sliding down. Sometimes the nose pads are extended from the frame, and other times they're adjustable and made from a different material (which is generally seen on metal frames).


Top bar: Some glasses also include a top bar (or brow bar), which is placed above the bridge between the lenses. It is used for stability and also for clip-ons (and the clip-ons attach to the top bar).


Clip-ons: Clip-ons are often used to transform regular glasses into sunglasses without a transitional lens, which automatically switches with the light. While they're not as popular as they once were, they're still used by some.


End pieces: These are placed at the corners of the frames and act as a connector between the hinges and the front of the glasses.


These are not all of the parts of the glasses frames, but the main ones you should be aware of. They're the parts that we often see but might not know what the name is. The parts of a pair of eyeglasses come together to make the perfect specs for you. The different parts of glasses can be a lot to understand but, hopefully, now it's easier to understand.
Parts of Glasses Labeled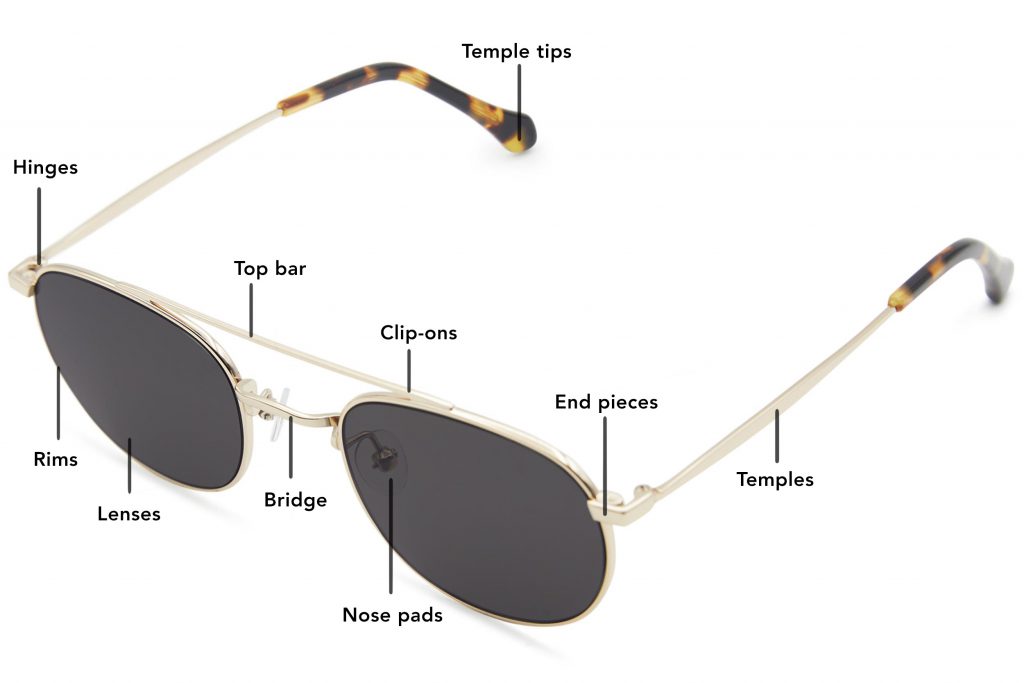 You can see a number of these parts of eyeglass frames on our Felix Gray specs. All parts of a glasses frame from Felix Gray are uniquely designed to make for the most comfortable wearing experience possible. Many of our frames are made of Italian acetate that mold to your unique fit over time. We also offer some German-engineered metal frames that feature adjustable nose pads and make great Low Bridge Fit options. Now that you know the many parts of a pair of glasses, it might be helpful to learn some quick fixes if your glasses aren't fitting quite right.
If you notice your glasses are slightly crooked, you can solve this by gently bending the arms of the frame to adjust the fit. If that trick doesn't work, an optical provider should be able to perfectly fit them to your face. If your glasses have nose pads and are sliding down your nose, try adjusting the nose pads and angling them inwards towards your nose. On the other hand, if your glasses are too tight on your nose, try angling the nose pads outwards to create a looser fit. Lastly, if the frame arms become stiff over time, we recommend using multi-purpose oil on the hinges to loosen the arms. You can also use an eyewear kit and screwdriver to further loosen or tighten the barrel hinges as needed.
All of these tips and tricks should help you have the best possible glasses wearing experience. Overall, the parts of a glasses frame all serve a unique purpose that makes the glasses work perfectly for you.