Eyewear isn't just about clearer vision – it's a statement of style and an extension of your personality. Your face tells a story, and with the myriad of glasses frames types available, there's an ideal frame eager to become a part of that narrative.
But the hard part is figuring out which specific style of the different types of glasses frames will compliment your face the best. There's also the functional side of things to consider. That's why we've created this guide to navigating the different types of frames for glasses.
At Felix Gray, we're on a mission to help you see life clearly and look good along the way. We've created an extensive selection of glasses frame styles based on research to optimize your wellbeing. Whether you need reading glasses, blue light glasses, or sunglasses, your perfect pair is a click away.
That being said, let's kick off this conversation with a brief overview of the importance of finding the right types of eye glasses frames.
The Importance Of Understanding the Different Glasses Frames Types
Diving deep into the different types of glasses frames is crucial, not just for style but for functional reasons too. Each frame type holds its unique allure and serves a distinct purpose that goes beyond aesthetics.
How Frame Styles Reflect Personal Style and Personality
You'll wear your glasses daily – so it goes without saying that you want them to look good. The type of frames you choose influences how others perceive you and how you feel about yourself.
For instance, bold and avant-garde frames may hint at an adventurous and confident spirit, while timeless classics like the Wayfarer suggest a penchant for enduring style.
Or, maybe your personal style gravitates more toward geometric frames as a statement of modernity and sophistication. Meanwhile, the cat-eye might be chosen by someone who adores vintage glamour.
You can more accurately convey your personal style and character by understanding the different types of glasses frames names and their associated vibes.
The Functional Side: Different Frames for Different Needs
However, selecting types of glasses frames styles isn't purely about aesthetics. Functionality plays an equally pivotal role.
Those with an active lifestyle should opt for more durable frames made of robust materials like titanium. Lightweight frames, on the other hand, could be beneficial for those wearing their glasses for extended durations, ensuring comfort.
Moreover, certain glasses frames types, like rimless designs, might offer a wider field of vision. These are ideal for readers or those who need an unobstructed view. On the other hand, oversized frames might be a preferred choice for those wanting better protection from environmental elements, like wind or dust as they work outdoors.
The point is that selecting the ideal glasses frame types is a delicate balance between form and function – and we'll help you walk that line confidently by breaking down all the different types of glasses frames styles below.
All the Different Types of Glasses Frames Styles Explained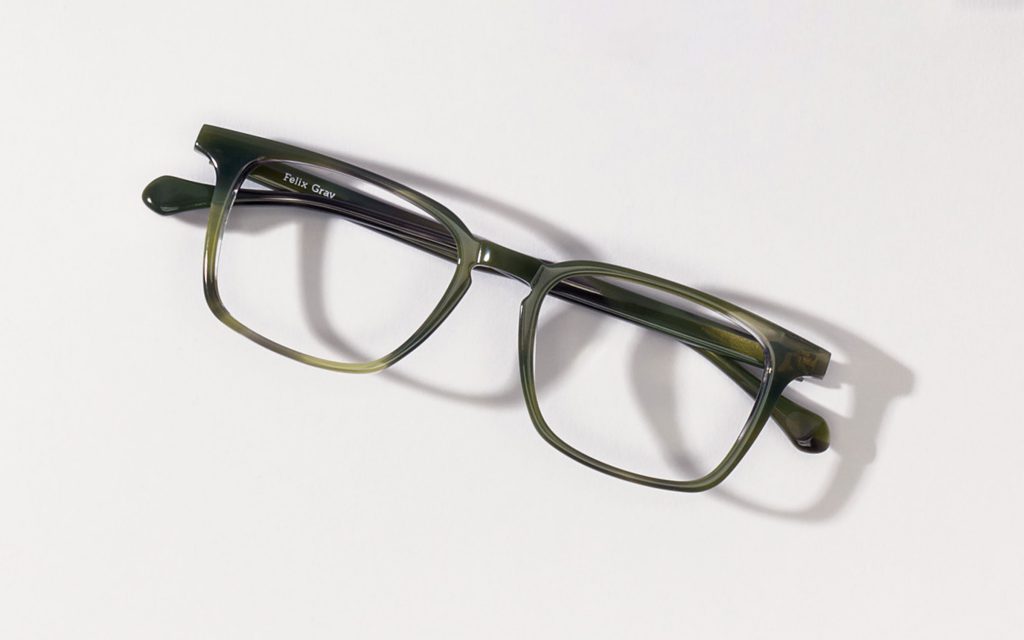 It's easy to get overwhelmed by the sheer variety of choices as you begin your eyewear journey.
But take a deep breath and feel all that stress melt away – we're going to simplify things for you by pulling the curtain back on the different types of glasses frames styles you can choose from!
Classic Frames Styles: Aviator, Wayfarer, Round, and More
Certain frame designs have stood the test of time – and for good reason. You have to respect the classics.
The Aviator was originally crafted for pilots and is recognized by its oversized teardrop shape, offering maximum eye protection.
The Wayfarer features a distinctive trapezoidal frame while exuding a blend of retro and contemporary vibes.
Round frames are championed by luminaries like John Lennon and offer a touch of vintage charm.
Square/Rectangle frames provide a balanced structure to the face, with their geometric shape adding a touch of sophistication and professionalism. Their versatility ensures they fit seamlessly into both casual and formal settings, making them a favorite among many.
Oval frames have smooth curves and an elongated shape, which exudes an aura of elegance and poise. Their understated design makes them a perfect choice for those who want to project a sophisticated yet subtle style.
You simply cannot go wrong with these classic styles. But one of the options below will suit you better if you want a more modern frame style…
Contemporary and Trendy Frame Styles: Geometric, Cat-Eye, Browline, etc.
Modern eyewear isn't shy about making a statement. Just like all aspects of modern fashion, these styles are constantly evolving.
Geometric frames are typically either hexagonal or octagonal and resonate with those looking to break the mold.
The Cat-Eye adds an element of mystique with its with its upward flick. It is often associated with mid-century style icons.
Browline styles highlight the upper part of the frame and give a nod to the 1950s while fitting perfectly in today's fashion landscape.
Speaking of modern trends, discover the clear glasses trend in our blog. For now, we'll move on to niche and specialty frames worth considering.
Niche and Specialty Frames for Glasses: Rimless and Oversized Styles
Beyond the mainstream lie the niche designs, which cater to specific tastes and needs.
Rimless frames are unique in that the lenses are held by the bridge and temples alone. This offers an almost 'invisible' glasses experience while radiating an unobtrusive, clean look.
Oversized frames are both protective and bold, making a pronounced style statement anytime you step outside.
Materials Matter: Metal, Plastic, Wood, and Other Options
There's another way the different types of frames for glasses can be categorized – not by style, but by materials. Like the styles themselves, the materials used for glasses frames are constantly evolving as well:
Metal frames, like titanium or stainless steel, are robust and sleek. They're durable and built to stand the test of time.
Plastic frames, particularly acetate, are versatile in colors and textures, ranging from translucent to tortoiseshell
Wooden frames present a sustainable and organic choice while also offering a unique aesthetic that will score compliments.
Which of the Different Types of Frames for Glasses is Right For You?
You'll feel confident and capable of choosing the right frames for you by the time you finish reading below. And on the off chance you're still left with some degree of uncertainty, remember that Felix Gray is here to guide you through the process with personalized support.
Understanding Your Face Shape and What Frames Complement It
Your face shape plays a key role in determining which of the different types of farmers for glasses is right for you. Here are the general guidelines:
Oval: Often considered the most balanced face shape. You can sport almost any frame style if you have an oval visage – from aviators to trendy geometric designs, the world of different glasses frames types is your oyster!
Square: Characterized by a broad forehead and strong jawline. This face shape is complemented by round or oval frames. These glasses frame styles provide a nice contrast to the sharp angles of a square face.
Round: If your face is nearly as wide as it is long, and you have full cheeks, a round face is likely your shape. Consider square or rectangular frames to elongate and add contrast.
Heart: Recognizable by a broad forehead and narrow chin. Heart-shaped faces are flattered by frames that are wider at the bottom, like some aviator or round styles.
We have a few different guides that can help you navigate the ideal glasses for each face shape in our blog if you're still uncertain. Learn more about what glasses look good on round faces, the best glasses for square face, what shape glasses for oval face, and the best glasses shape for heart face.
And, remember that while these are general guidelines, the beauty of personal style means that rules can always be bent or broken. Experiment and see what makes you feel best.
Factoring in Your Lifestyle: Active, Professional, Casual
Your daily activities can have a profound impact on the glasses frames types that suit you best:
Active: If you're constantly on the move, sports frames or wraparound styles offer durability and stay put, no matter how intense the activity.
Professional: Classic styles like rectangle or oval frames in neutral colors exude professionalism and are a perfect pairing for those in formal settings or office environments.
Casual: Unwind and express yourself with fun, trendy styles. Whether it's geometric frames for a day out or cat-eye styles for a coffee date, let your glasses echo your relaxed vibes.
The Importance of Fit and Comfort in Your Selection
While style is crucial, never compromise on comfort. Always ensure that your glasses have proper bridge fit – meaning they sit comfortably on your nose without pressing down.
Similarly, the arms of the glasses should extend back to your ears without pinching (this is known as temple length).
While this guide is specifically centered around the different types of eye glasses frames, you should also take into account the lens width. Your eyes should be centered within the lenses to ensure clear vision and a flattering look.
Trust Felix Gray No Matter Which Type of Glasses Frame You Need!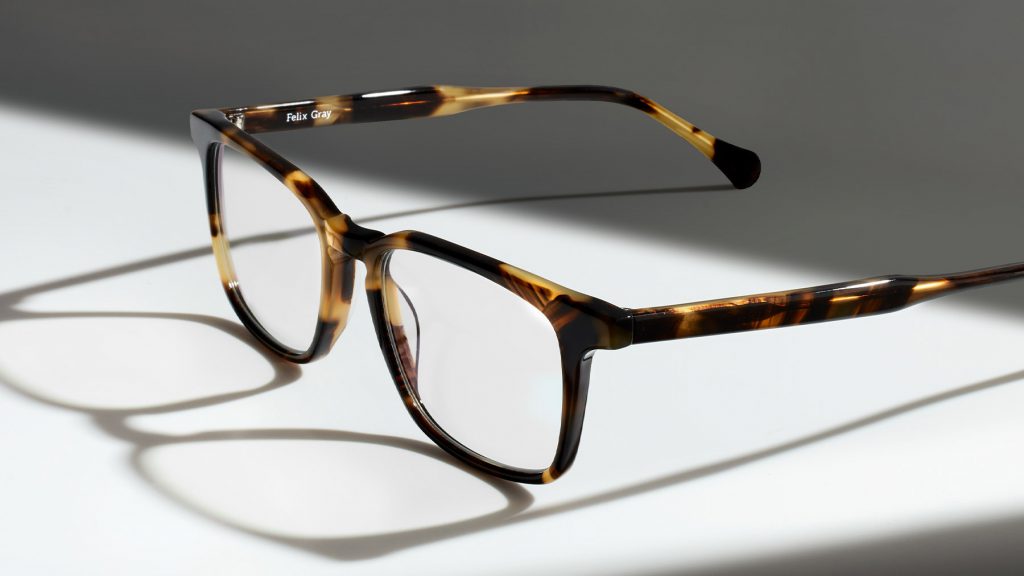 From blue light glasses to reading glasses, sunglasses, computer reading glasses, and more – Felix Gray is a brand you can trust for all the different glasses frames types.
We pair our frames with top-quality, researched back lenses that help you see the world as it was intended: clearly!
The best part is you don't have to play the guessing game or stress about choosing the right glasses frame styles. Our world-class customer support team is a click or call away ready to help you navigate this decision with confidence and clarity.
You don't have to take a chance and buy glasses before trying them on either – our virtual try-on allows you to see how a certain frame will look on your unique facial structure.
With free shipping, returns, and exchanges coupled with a 30-day money-back guarantee and a one-year manufacturer warranty, you can place your order with peace of mind today.
So take a look around and see what glasses frame types look best on your face as we wrap up this guide to the different types of glasses frame styles.
Final Thoughts on the Different Types of Glasses Frames Styles
You may have come here feeling uncertain and confused as to which of the different types of glasses frames styles compliments your personal preferences and needs. But hopefully, you feel clear and confident navigating the shopping process after reading our guide.
While it's essential to be informed about face shapes, materials, and the myriad of styles available, remember that the perfect pair ultimately resonates with your personal aesthetic and comfort.
Glasses are not just functional tools. They're an extension of your persona and enhance your features while empowering you to express your individuality.
Our blog has more resources on the world of vision and eyewear. Learn about OD in eye, how to fix broken glasses, how to find out your eye prescription without going to the doctor, acetate frames, amber glasses, light sensitivity glasses, or eye exercises to improve vision.
Whether you're gravitating towards classic aviators, enamored by the flair of contemporary geometric designs, or looking for something tailor-made for your active lifestyle, your perfect pair awaits at Felix Gray.
Dive into our collection, and let your next pair of glasses be more than just a vision aid – let them be a statement!