When it comes to fashion trends, clear eyeglasses is one that has been leading the way for years. And it's not going anywhere any time soon. Clear eyeglasses simply refer to any glasses with a clear or translucent frame. These kinds of glasses are being embraced by celebrities for the way that they contrast with skin tones and eye colors, and work with virtually any outfit or style.
Are clear frames right for you? Check out the information below so that you can make the decision that's best for you. Either way, clear frames are a fun trend to check out.
Why are clear glasses so popular?
No one can say for sure why a trend takes hold, but clear eyeglass frames present a lot for new, fresh approaches to eyewear and fashion. Clear frames offer a younger look, which combines well with lighter-toned color palettes and clean minimalism seen in today's styles. There's been a return to eyeglasses as a fashion statement, and clear frames are a fun step beyond the usual tortoise frames that have been traditional in eyewear.
Famous celebrities who have worn transparent glasses include David Bowie, Bridgette Bardot, Ingrid Bergman, Jaqueline Onassis, and Diana Ross. From the '60s onward, celebrities have used various kinds of fashion frames to make bold statements. Clear frames are a fun, fashion-forward way of sharing in this legacy of glamor.
In the past few years, designers have been experimenting with pastel shades and clear colors in accessories, and eyewear has followed suit. Starting with clear framed eyewear is a great way to get in on this trend. This includes both clear glasses for women as well as clear eyeglass frames for men.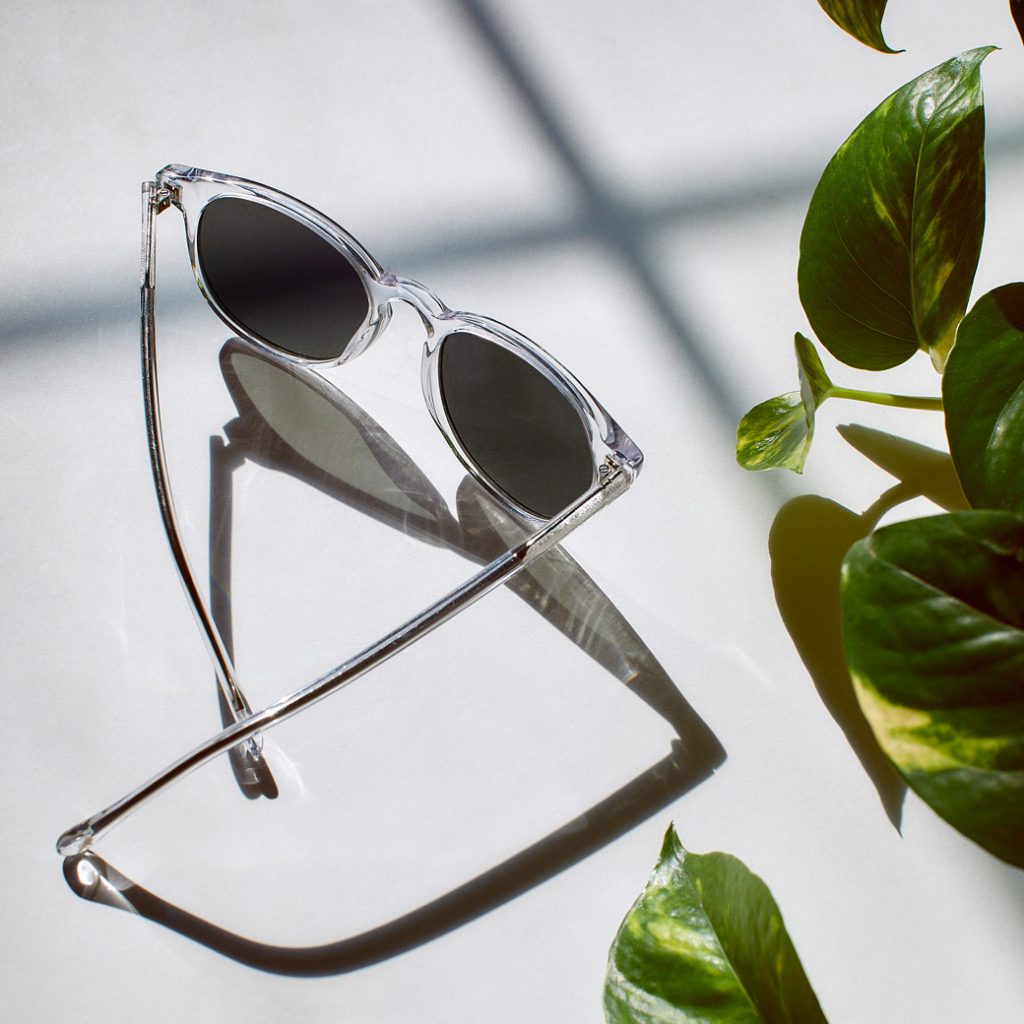 How to choose the right pair of glasses
There are a wide variety of styles to choose from, and the frames should always be comfortable and flattering to wear. You should aim to choose a set of frames and lenses that have good Blue Light blocking—to help keep your eyes comfortable day to day— and that are flattering as well.
Check out our great selection of frames and decide what is the best match for your personal style. Your eyes are worth it!
As always, we also recommend that you check in with your optometrist or ophthalmologist and get regular yearly exams. Your eye doctor can also help you get the right measurements that you need to make sure your new glasses fit comfortably.
What clear framed glasses shape is right for you?
Generally, the glasses frame that will suit you best depends on your face shape. As we've written about in our guide to picking glasses for your face shape, bold and angular frames work well with round faces, and round or oval frames work to soften the angles of square faces.
Clear framed glasses are a great choice for a bold and on-trend fashion statement. Whatever frame shape you choose, make sure that your frames fit comfortably. The best way to ensure this is to try on the frames in question, but if you have your measurements for bridge width, arm length, and lens width, online shopping should be just as simple. If you want to try clear prescription glasses, buying a pair of non-prescription or reading glasses is a great choice.
How to style clear glasses
How you style clear glasses is up to you, but matching your frames with summer colors and airy looks always gets results. To really highlight your new clear framed glasses, you'll want a combination of colors and shapes that will highlight the features of your face. One of the best style benefits of clear framed glasses is that their neutral and translucent color doesn't detract or distract from your features. Rather, they add a bit of texture that draws the eye, but are neutral enough that it's your eyes and bone structure that shine, rather than the accessory.
Clear eyeglass frames can enhance the colors in your hair and skin tone by getting out of the way and letting your eyes and smile shine through, as opposed to tortoise frames that add contrast. If you're not convinced that completely clear frames are for you, but you're still eager to try out the style, you may also want a slight tint that compliments your hair color and personal fashion sense.
In a professional setting, clear glasses have an understated effect that can really accentuate an outfit and give a studious, serious impression. Clear frames work especially well with crème colors, blue pastels, and light-colored accents.
Getting in on the clear eyeglass frame trend
Felix Gray offers clear glasses with Blue Light filtration with our Faraday frames and Roebling frames. Shop now and feel free to reach out to us if you have any questions regarding how to order the perfect pair for you!